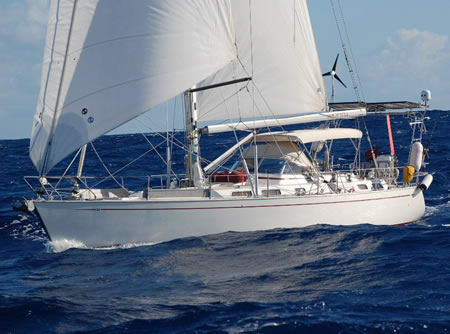 Najad 460 for sale - Serafina crossing the Atlantic 2011
Najad 460 for sale
Serafina of Maldon,
Najad 460
Built 2007, No. 047
46 foot impressive, fully equipped liveaboard, ocean-going vessel. 

2 cabin layout with linear galley & pilot berth options. 

Place the curser over a picture for a preview and click on any of the pictures for a larger version and to start slide show.
Specification that includes countless additons to standard N460 includes:  (Click here to download excel spreadsheet with full spec)

Inner forestay (Cutter) Furlex;
Stainless Steel aft gantry supporting solar panels, Air Breeze wind gen, Wirie wifi, Fleet Broadband 150 satellite comms;
Comrehensive sail wardrobe including: Roller furling main, Genoa, Hard wind jib & storm jib, twin downwind sails (Simbo rig), Code Zero, Asymetric cruising chute. Hydrovane wind vane self-steering gear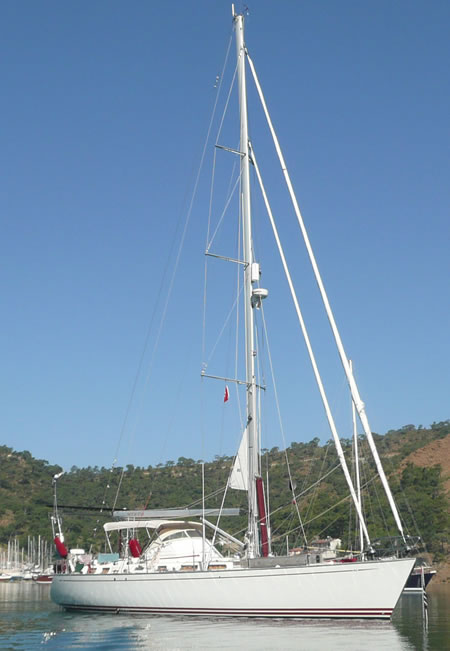 Najad 460 Serafina for sale
Spectra Water maker
Walder Boom Brake
Echopilot forward looking sonar
Raymarine E series chartplotter and radar
Washing Machine (kenny) 240v
Retractable davits
Viking RescYou Pro (4 persons) liferaft
Bow thruster
Mass Combi charger/inverter 24/2500/60 230v 50Hz
Diesel generator Mastervolt 6 kw
AIS transmitter and receiver
Aquadrive
SSB Radio ICOM IC-M801E

Fully & extensively maintained. 

Still available for sale (March 2015) with full cruising spares inventory. 
Currently on brokerage in the UK