Sweden to UK (June & July 2007)
(Click on any images below for larger versions)
20th June 2007
Left Henan in very light wind and motored out through the islands and down the coast to Marstrand where, with a little excitement and some reluctant help from a Dutchman we moored onto a quay using the marina's 'Lazy line' system. Lots of activity in the town preparing for Midsummer (Nearest Friday to the 21 st June) which is the biggest of the Swedish festivals/Bank holidays.
Left early the next morning for the long trip down to Varberg. This turned out to be a motor sail as the wind stayed resolutely on the nose the whole way! Moored up very professionally, only to then be told that we were in the space reserved for a fishing trip boat so had to move.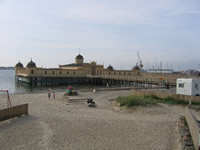 Varberg Nudist Swimming baths
Varberg seems an impressive town, but the highlight was the seemingly endless procession of big old (1950's) American cars that were cruising around showing themselves and their owners off.
Friday dawned with a howling gale and torrential rain and this is the day Sweden is celebrating Midsummer. The Swedish celebrations take a variety of forms, but the general gist is that they all drink vast amounts of alcohol and then use Saturday and Sunday to recover! Sadly any other activities had to be abandoned as the rain and gale continued all day, finally relenting in the early evening.
Saturday 23rd June.
Set sail early and were rewarded with a fantastic sail down to Denmark . 12+ knots of wind saw us barrel along at 8 knots arriving in Gilleleje some 6 hours later. Got a great hammerhead pontoon mooring in the little harbour that is clearly an important fishing port.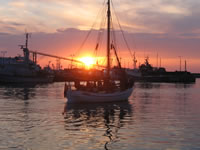 Gilleleje Harbour - Denmark
As luck would have it, Denmark celebrates Midsummer on the Saturday nearest 21 st June, so we got to watch the Danes try the same trick as the Swedes. In Denmark they have a tradition in the evening of Midsummer of lighting bonfires in all the towns and especially big ones on the beaches of the coastal towns. The crowning highlights are the firework displays that follow, however one of the essential prerequisites of a good fireworks display (to my mind) is a spot of darkness. Sadly in the lands of the midnight sun (very close to here!) it stays light until long after most people have gone to bed, so they let them off anyway, but this means you simply get a lot of thumps, crumps and bangs with little puffs of smoke high up in the sky. A bit like watching anti aircraft fire I expect.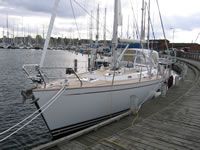 Svanemolle Marina, Copenhagen
Sunday 24th June dawned sunny but with no wind, so again we motored, this time on down to Copenhagen where we eventually found a berth in a very large but full marina. Clearly we were the floor show and lots of people sat on their boats watching us potter around trying to fit into berths that were all too narrow. It was also very shallow so I expect they also hoped for the bonus of watching us go aground as well. (I do wonder if we should have a different National flag to fly instead of the Red Ensign in these situations as we might then get more help!).
Finally a Danish yachtsman took pity on us and pointed to a large motor boat that was getting ready to move, so were able to slip into the perfect spot alongside the quay as they left.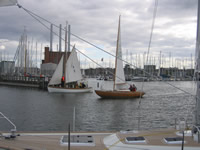 Evening racing - Copenhagen
Met up with Angie and her husband Lars who live here and they gave us a wonderful meal and rather too much to drink. This was the cue for the weather to break again and we spent the next 3 days visiting Copenhagen and various art galleries, museums and shops!
Friday 29th June
Finally a gap in the weather allowed us to set off to Klintholm, but after a great start, reaching along at 9 knots in a rising 20 knot wind we found ourselves heading straight into a Force 6 wind on our required course. Sensible thing to do was roll away the genoa and motor sail for a while which is what we did, but then a loud bang signified the destruction of the roller furling drum and moments later the full genoa was unfurled! This of course had to happen right at the point where the shipping lanes for the Baltic reduce down to a very narrow channel and we were now forced to sail with a full headsail up, out into the lanes. With advice from Magnus over the phone from Sweden we managed to jury rig a furling line around the outside of the furler and eventually were able to roll the sail away. We opted to return to Copenhagen at this point as we were sure there would be a Selden (the rigging manufacturer) agent somewhere near. As luck would have it, Selden's Danish office is near (34 km) to Copenhagen so we called immediately but although they had a spare drum, they were closing for the weekend in 2 minutes! But remarkably they declared that one of the staff lived near to the marina we were in and he agreed to bring the part to us later on his way home. No charge for delivery and no charge for the part either. "All part of the Selden service sir." And now its raining again.....
Sat 30th June
Beautiful morning with a nice westerly wind, almost perfect. Made great progress down the Danish coast heading for Klintholm on the island of Mons. By early afternoon the sky darkened and a big black thunderstorm swept towards us. In no time we were in torrential rain with 35 knots of wind which makes you pay attention! It was at this point, as our bow dug into a wave sending a load of water down over the decks and cockpit, that the anchor winch proved that water and electrics are a poor mix. Without any bidding the winch simply turned itself on and tried to pull up the anchor. However the anchor was of course already up so all it did was make a very load and unpleasant grinding noise that scared the **** out of us. We turned off the master switch which shut it up, but I think this is another minor electrical problem for Najad to look at when we get to Germany.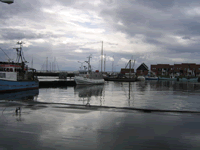 Klintholm Fishing Harbour
Finally arrived in Klintholm which is a delightful fishing village and got a superb mooring alongside a jetty. 98% of the boats here were flying the German flag, which made me wonder if this island was Danish after all. A very nice Swedish family rafted up beside us later on. They were on their way back home from the Caribbean and had just crossed the Atlantic and sailed up the English Channel and North Sea during all the recent bad weather. 57 knots across the deck in Helgoland, but then who goes to Helgoland? They are thinking of going on the same Blue Water round the world rally as us in 2009 which would be fun. Very windy and very wet all night.
Sunday 1st July
Wonderful sunny morning and we got away at 8.00am, but you can't have everything and today there was no wind. Just 5 hours to Gedser (South Eastern tip of Denmark) where we edged our way up a narrow and very shallow channel to the marina. Another great mooring alongside and good onshore facilities.
Sadly our last day in Denmark which was a pity because with my full range of "Englishman abroad" language skills, I had just managed to master the rather guttural 'Hi' that they use. Sweden saw me in full flow with a stylish 'hey' which they use for hello and 'hey hey' which appeared to be goodbye! Next stop Germany which may prove tricky as most of my German has been learnt watching 'Das Boot'. Useful if we need to dive or raise the alarm....
Monday 2nd July

One of those English East Coast days, a perfect combination of no wind and drizzle all day. Poor visibility as again we had to cross some quite busy shipping lanes and a frenetic ferry service running between Roedby (Denmark) and Germany which made Dover seem serene. Came across some German Navy activity where they were having an interesting exchange of views with a Russian cargo ship which was anchored next to an area reserved for Submarine training and practice mine laying. (We are quite sure these boys are on our side now aren't we?) We then passed another destroyer which seemed to be marking the outer extremity of a gunnery practice area judging from the heavy thump of guns. Made us wonder if now was a good time to put the British Red ensign (flag) away! Sailed into Kiel at a wonderful 8+ knots and moored up in Laboe. There was a short hiatus about getting fuel, which involved motoring over to the far side of the estuary to another marina next to the old Olympic Marina.
Welcomed by the Najad agent here in Laboe, who had not actually been warned about our need for repairs after all, at which point the heavens opened and we endured an hour of the sort of rain we hear you are getting in England - Sarah trapped at the supermarket without any waterproofs, but at least entertained by patches of the ceiling falling in with excess rainfall! On the subject of what is happening in the UK, we received an email telling us that you have had a change of government without an election or tanks in the streets. (May not pass that news onto the locals here!)

Click here for a full interactive map. You can overlay satellite pics etc. Zoom in for fantastic level of detail. Even shows our actual mooring spots!
Tuesday 3rd July
This was to be a 'rest' day whilst Najad's German agent got various problems sorted and the engine serviced. Sadly, the Teutonic reputation for efficiency took a day off today when firstly the shipwright appeared, viewed the problem with the fresh water leak and declared it to be a big job and that he could only do a temporary repair to get us across the North Sea to UK. (Not really what we had been hoping to hear!) Next the agent reappeared to tell us (very nicely) that the mechanic that was coming at 12.00 to do the service..... wasn't coming after all. But he did make a phone call to sort of arrange for another Yanmar mechanic to rendezvous with us half way down the Kiel Canal the next day. Finally to round it off, the electrician arrived and spent some time looking at wiring diagrams, pressing buttons and showing us that he knew what the Raymarine chartplotter was for. Unfortunately he was totally baffled by the three quite serious faults that had developed over the past few days and suggested that we got it looked at back in the UK. Hey Ho.
So we spent the day dodging rain showers and in the afternoon went to the doctors to get Rob's eye problem sorted. Very nice surgery, very helpful and got some drops for the conjunctivitis (the problem that a very reticent husband had failed to do anything about for a week - scratched eye!).
Wednesday 4th July
05.30 am cast off and headed for the entrance to the Kiel Canal. This canal was built by Kaiser Willhelm II in the late 1800's so that he could move his navy quickly from the Baltic to the North Sea. I mention this so that you can get an idea of the scale of this endeavour.
This is actually a very boring run along 56 miles of lock free waterway. The excitement comes in the form of sea-going container ships, tankers and the odd naval vessel. (Some friends met a submarine once!) After 3 hours we reached the tiny marina where we were due to meet up with the Yanmar engineer. We eased our way into the small and very shallow looking side arm off the canal and moored up. A quick phone call resulted in the appearance of a service van and a really nice guy whose knowledge of engines was clearly better than his English. Also the owner/manager of the marina turned up and was charm itself. Nothing was too much trouble, but I was a little concerned as to what point he was making when he offered us the use of the showers!
We were on our way within an hour and immediately came to our favourite feature of the canal. This is a remarkable bridge carrying the railway, but slung underneath is a caisson for foot passengers and cars which crosses at boat level. Furthermore on one bank there is a large and popular cafe/restaurant and at the point where you sail past, they blare out at top volume the National Anthem of the boat passing. You will pleased to know that 'God save Our Queen' brought lots of the visitors to their feet, waving happily. (Well, they seemed happy!)
We arrived at the far end of the canal around 4.30 pm which Sarah had judged to be the perfect time for us to lock out into the River Elbe for the run down to Cuxhaven. This stretch of water is probably our least favourite place on earth. It is frequently wild, wet and very unpleasant as well as featureless (if you do not count the constant stream of big ships heading up and down from Hamburg). Arrived finally at Cuxhaven and secured a great pontoon mooring at 7 pm. Also had a very reassuring call from Najad's man in the UK, the unflappable and dependable Mike Jennings, who freshly returned from his holidays, was just calling to say that he had arranged to sort our various little problems as soon as we arrived in the UK.

Click here for a fuller pictorial review of the trip along the Kiel Canal.
Thursday 5th July
A poor forecast for the Dutch coast was the excuse we needed for a day shopping and relaxing in Cuxhaven. The first thing we noticed was the large amount of work going on in the large park overlooking the marina. These, it has turned out, are the preparations for the South Saxony Regional Show, starting tomorrow, Friday. It seems that we are almost centre stage of three days of County/Regional Show, but most concerning is the erection of a huge stage and sound system right next to the harbour office. Clearly we are in for some loud music, the only question is what sort of music and how late?
Sarah returned from a sadly fruitless shopping trip with the slightly disconcerting news that the headline act of this three day extravaganza is non other than 'Right said Fred'. (Sarah tells me that they are big out here!) Please let the weather improve ASAP.
Just got the forecast for next few days and the news is all bad.
Friday 6th July
Force 8 gales forecast, blowing directly against us, so we are staying put! (The next leg of this trip is to Den Helder in Holland and is 170 miles which will take us around 24 hrs non stop.) In fact the forecast is very poor for the next few days so it looks like we will have to get into the swing of things with the "27th Tag der Nieddersachen 2007".
We now have a copy of the programme and sure enough 'Right said Fred' are the big act, scheduled from 8.00 pm Saturday until 2.00 am Sunday! In addition, we now see that 'Middle of the Road' are playing Saturday afternoon. I can feel a job for the Felco Cable Cutters coming on.... Little else to report apart from the fact that this fine show is continuing despite endless driving torrential rain.
Saturday 7th July
Winds gusting up to Force 8, but thankfully no rain, so the South Saxony Show goes on. Actually they have given over huge chunks of the town to this event and there are no less than 7 sound stages around the port and marina areas with all sorts of activities and stalls.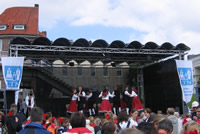 Nearly a third of the crowd are dressed in regional costumes (very colourful!) and they all seem to be participating in endless rounds of dance performances at various locations. Another third are in uniforms and are for the most part, exhibitors at the show. The main attraction (the beach volleyball being rather wind affected) was the big music stage next to the marina. Sure enough, part way through the afternoon, on came 'Middle of the Road' and they opened their act with a rousing performance of 'Chirpy, Chirpy, Cheep, Cheep'. They continued to play a number of their self styled 'hits' (I think we call them covers of other people's hits) and ended their set before a bemused German audience with a repeat of the first song.
In the evening, we (please note that the 'we' represents Rob and the happy Germans - Sarah had no strange need to stand in a muddy and very windy field to watch RSF. In fact Rob's enthusiasm for trotting off to the sound stage became increasingly worrying - it is amazing what boredom can induce!) were treated to a German band who were doing a great job, but were finally eased off stage to make way for the headline act. After the usual wait and some hard work from a German Chris Moyles, who did a remarkable job in whipping up the audience of perhaps two thousand souls, to a loud fanfare and serious overuse of several smoke machines, 'Right Said Fred' came on stage. Six songs later they were gone! The lead singer made a good fist of things, but the rest of the band made little attempt to hide the fact that the backing track was providing all the music and they just ran through their last Top of the Pops stage routine! Strangely there were no calls for an encore.
Sunday 7th July
Glorious sunny start to the day. Strong winds still blowing but forecast is good from tomorrow so we will aim to set out then. The show seems to have run out of steam today and we found little to see or do.
Monday 8th July & Tuesday 9th July
Set off in the afternoon, into a fairly flat sea and light wind. (blowing straight at us which meant more motoring). Met loads of boats coming the other way, all motoring as the wind was too light for them too.
We decided that as it was all so benign, we would not call in at Den Helder (Northern Holland), but divert from there straight across the North Sea to Harwich. This turned a 170 mile trip into a 310 mile trip, which means keeping going for around 46 hours.
As the sun set, things looked fine except possibly some classic looking thunder clouds in the far distance. (Not shown in this pic.)
This may be what is known as the calm before the storm, as within an hour we found ourselves facing a very violent electrical storm. This turned out to be a series of four thunder storms that tracked straight towards us with some very impressive lightening. Evasive action was taken and around 4 hours later we saw the last of them pass by as we continued on our way.
Two hours later (0700) the autohelm gave a series of squeaks and died! Faced with the option of sailing on for another 38 hours without any autopilot across the North Sea and all its shipping lanes, we bottled out and headed for Den Helder which took us a further 9 hours. Najad helpfully tracked down a Raymarine agent in Holland and he has promised to come out tomorrow and see what is to be done about the Autopilot. Otherwise, does anyone reading this fancy joining as as crew for the sail across? (text 07909 971 443)
Moored up in a small yacht club marina in Den Helder harbour, which is first and foremost a Dutch Naval Port. Everyone very kind and helpful here. Also came across our first English yacht and they have given us their newspaper, so now we are up to date to July 4th! (As seen through the eyes of the Daily Mail)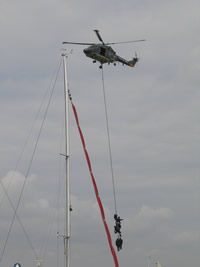 Dutch Commandos swing by...
Wednesday 10th July
Very nice lad came up from Amsterdam to fix the autopilot. This meant taking it apart, some very ominous tutting and sucking air through teeth followed, by the conclusion that it was broken and need replacing. So off he drove to some unknown and distant location to obtain a new unit under the warranty and finally he returned, installed it and declared everything to be OK now. (He wasn't going to be out in the North Sea finding out if this was true or not of course!)
Thursday 11th July and Friday 12th July.
Decided that the weather forecast was not too dreadful for the crossing, although they were promising winds up to Force 6 most of the time. Sarah's tidal calculations dictated that the best departure time would be at 10 pm BST (11pm local) so the day saw Sarah borrow a bike and go shopping (Retail therapy rather than essential goods) whilst I enjoyed the Navy practicing all their displays for the big open weekend starting tomorrow (see picture).
10 pm we slipped our lines and headed out into the North Sea with the wind gusting the promised 25 knots +. What we hadn't perhaps fully expected was the rough seas that greeted us, partly a result of the 3 knot tide running directly against the prevailing wind. People who sail in the North Sea will tell you about it's very characteristic short steep waves. A heavy, powerful boat like Serafina will ride up and over the first wave in a set, but as she comes down the other side she buries her bows deep into the next wave which is so close behind and drives though it, sending a wall of water down along the decks and over the cockpit as she rears up again. This all makes for a very violent and uncomfortable ride but the forecasts that we had seen mostly had the wind reducing later in the 24 hours ahead of us. Midnight saw the first casualty of this roller coaster ride through these seas. As the wind whipped the tops of all the wave peaks making it all quite dramatic, our Starboard (right!) green navigation light packed up. No real big deal as we simply turned on the tricolour lights at the top of the mast. (Yachtmaster instructors look away now....)
!2 hours into the trip the wind had eased a bit but the waves had reduced markedly and from here on all the way to Harwich things simply got better and better. Sadly the wind blew from the West all the time we were headed West, and backed to the South West as we altered to sail South West.
One of our 'new toys' on board is an AIS receiver and I have to tell any sailing folk reading this, that for crossing TSS (Traffic Separation Schemes) and any busy shipping lanes, this bit of kit reduces the exercise (and the attendant stress levels) to the status of little more than a computer game.
Finally, almost exactly 24 hours to the minute after setting out, we tied up in Woolverstone Marina on the River Orwell, bang on the timing Sarah had planned. (I never doubted her.)
We plan to stay here a few days and hope to see various friends based here as well of course as tidying up for a full inspection on Sunday by Sarah's parents.
| | | | |
| --- | --- | --- | --- |
| | Could not finally decide which of these shots from Woolverstone to use! | | |
| | | | |
15th July - 19th July 2007

Staying in Woolverstone Marina to have a few of the electrical problems looked at and waiting for a suitable window in the weather to make a move Southwards to Ramsgate.
Woolverstone Marina is a delightful location in the very pretty River Orwell. It is owned and run by MDL Marinas who in general are not the most popular organisation, due largely to their high charges! However, in contrast to so many South Coast marinas which are populated either by charter boats or expensive but rarely used craft, this site is full of boats that are clearly used and loved by their owners. We were made to feel very welcome by everyone we came across and it easy to see why some friends (Robert and Joyce) are so happy to have this as their home mooring.
Weather has stayed constantly against us leaving so far, but there now appears to be a window opening on Thursday with the promise of the wind going round to the North East and blowing up to Force 6 or possibly more, which would be great. So...
Left Woolverstone at 11 pm (in a flat calm) and motored our way carefully down the River Orwell, which to my mind has rather vague and haphazard lights. On past Felixstowe container port and the huge ships being loaded and unloaded under the glare of thousands of bright lights. Put paid to the night vision for a while!
A light breeze got up and helped us out of the harbour and through the shipping lanes and South across the Thames estuary. Dawn broke around 4.00 am and brought us clear blue skies and killed off the last of the breeze. So we motored on past the busy entrance to Dover (5 people swimming the channel today, so they are warning all the traffic in the shipping lanes to be aware as they are nearly halfway across by 8.00 am)
It was just as we approached Dungeness at around 9.00 am that today's electrical problem struck. The chart plotter which provides the satellite navigation, radar and AIS etc. switched itself off. Helpfully it then turned itself back on, but had lost all route information (as computers do) and needed us to turn back on the radar etc. It could have been worse as this might have happened a little while earlier as we approached Dover, so relief there. Unfortunately, it repeated this trick every 10 minutes. A call from the helpful Raymarine man (Dave Freeman) in Southampton resulted in his diagnosis of a faulty power pack, although coming from Cornwall he used a rather more graphic description.
At 1.30 pm I went to have a sleep and the chart plotter, being a machine with more intelligence than we thought, realised that being alone and misbehaving with Sarah in charge was a poor career move and so it fixed itself and performed perfectly for the rest of the trip!
Beachy Head came and went, still no sign of the promised NE wind, never mind a strong blow. Then as we reached Selsey Bill around 8.00 pm the strangest cloud formation we have seen appeared from the South. As it got close, Sarah very wisely decided that it did not bode well and so we dropped the sails. 10 minutes later, the gentle 5 knot breeze that we had, changed into a 35 knot blast whipping the wave tops across the boat. This was backed up by very heavy rain (for any readers in Worcester, this description can probably be downgraded to a light drizzle by your new standards) and although the wind dropped away the rain accompanied us for the next few hours as we made our damp way into the Solent and up to the River Hamble.
Swung into our usual berth in Hamble Point Marina and it was at the point where we entered the berth that the increased size of this new boat was most apparent to us. 11.30 pm sat down to a bit of supper and then rolled gratefully into bed.
Friday 20th July
Woken around 9.00 am by Mike Jennings of Najad, whose office is at this same marina, as he was keen to get the professionals organised and working on our problems.
At 6.30 pm we decided to go back to Worcester for the weekend and set off in the car. Big mistake of course and although we did well to get to Gloucester by around 1.00 am we realised that the only option was to head back to the boat (arrived back at 3.15 am). The flooding was unbelievable and when we went into Gloucester (M5 was closed both ways) we found quite extraordinary scenes, including on the opposite side of the dual carriageway, a full car crash, involving lorries, vans, cars etc. which blocked the road, but not a single person to be seen. Everyone had gone away and left the chaos as clearly no recovery was possible at that time.
(Sarah would like everyone to know that the East Coast is not all mud, even if the bottom is very close to the top!)