2011
Overview....
Jan 2011 we arrived in Barbados after a very easy crossing of the Atlantic. We did not enjoy the marine aspects of barbados too much but sarah did avail herself of the excellent medical facilities and some very helpful friends on land!
We then sailed to St Lucia where we spent some time getting ourselves sorted. Then we headed north to Antigua via, Martinique, Dominique and Guardeloupe.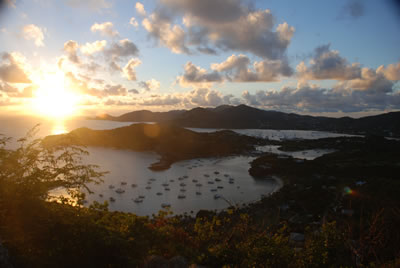 View of English Harbour, Antigua from Shirley Heights.
In March we then headed south and sailed back down the chain to Grenada, not before we had a blissfull time in bequia and the wonderful Chatham Bay on Union Island.
In Grenada we spent time in Port Louis and the excellent La Phare Bleu Marinas preparing for the layup which we did at Spice Island Marine. (Recommended).
So in May we flew home to the UK and returned on the 1st December to commission and launch Serafina for another ambitious year exploring the east coast of America.
In December we headed north to St Lucia and spent Christmas and the New Year in Rodney Bay.